29 years on from the disaster at Chernobyl, millions of pounds are still being spent in an attempt to contain the radiation.
An area originally extending 30 kilometres (19 mi) in all directions from the plant is officially called the "zone of alienation". It is largely uninhabited, except for about 300 residents who have refused to leave. Even today, radiation levels are so high that the workers responsible for rebuilding the sarcophagus are only allowed to work five hours a day for one month before taking 15 days of rest. Ukrainian officials estimate the area will not be safe for human life again for another 20,000 years.
On the 28th april 2015, firefighters were struggling to control forest fires within the surrounding area. If a similar disaster happened at Sizewell, This is what we could be facing for decades to come.
Article from the Guardian, 24th April 2015
World must plug funding gap for massive 100-metre steel arch being built to contain remaining radioactive waste at the site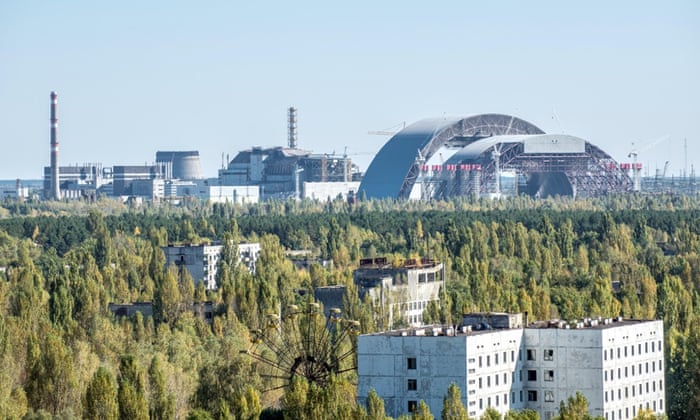 A massive engineering project to make the Chernobyl nuclear power plant safe is facing a €265m (£190m) funding shortfall.
Next week a conference held by Germany in London will call on countries to make up the gap, but the European Bank for Reconstruction and Development (EBRD) has said it may have to ask its shareholders to make up the shortfall if donations dry up.
This Sunday marks the 29th anniversary of the world's worst nuclear disaster, when a power surge blew the roof off a reactor, spewing radioactive clouds across Russia, and eastern Europe.
The project to build a new radiation container had been due for completion this year but the deadline slipped to November 2017, as costs mushroomed from an initial estimate of €800m (£572m) to more than €2.15bn today.
Over 40 governments and the European commission have committed to help a Chernobyl Shelter Fund tasked with sealing off the 100 tonnes of uranium and one tonne of plutonium that remain within the site.
"If countries recognise the nature of the problem in Chernobyl and its importance for human security in Ukraine and ecological security in Europe, there is a hope that the gap could be closed at the donor conference on April 29," Anton Usov, an EBRD spokesman told the Guardian. "Verbally the donors are committed to contribute more funds."
The bank believes there is a broad understanding among nations of the threat that radioactive dust on the site still poses to Kiev, around 70km away.
But "if there is a shortfall, then we will speak to the bank's management and shareholders and it may be funded by EBRD reserves," Usov added. "Theoretically, that is something we could do."
The 31,000 tonne protective steel arch is an engineering project of staggering dimensions – 100m high, 165m long, with a span of 260m. When finished, it will be slid across teflon pads to entomb the burned out reactor, and is intended to remain effective for a century.
"The are no parallels in the history of world engineering," Usov said. "No-one has even undertaken a project like this before."
Construction of the stainless steel arch has been hampered by factors ranging from optimistic early architectural designs to heavy snows in the winter of 2013/14, which caved in part of a roof near the stricken Unit 4 reactor shelter. Workers were evacuated from nearby sites, as radiation levels surged.
The reactor itself is still too contaminated for workers to approach. Removal of radioactive materials there will only begin once the new confinement structure has been finished.